Kosmocrew
As a volunteer under Kosmorama, you get exciting movie experiences and new friends!
Application for 2023 will be announced fall 2022.
What is Kosmocrew?
Kosmocrew is our team of volunteer festival workers. As a Kosmocrew member, you get a festival pass that gives you access to watch as many movies as you'd like during the festival. You'll be invited to a volunteers only film-preview and you're of course ensured to meet some new exciting friends. We're looking for volunteers who want to help make Kosmorama amazing!

What do we expect from you?
We expect that you show up at the time agreed and do the job with dedication and positivity. Minimum work effort is three shifts, but some of the positions will require a little more. There's no need to speak or understand Norwegian to join our Kosmocrew. Everyone is welcome at Kosmorama.

COVID-19 regulations
It is safe to attend the festival! We ask everyone to apply to the regulations from the government concerning COVID-19 that is relevant at the time of the festival.
Applications
Deadline to apply is February 15sth each year.


If you have any questions or commets, please send an e-mail to melissa@kosmorama.no.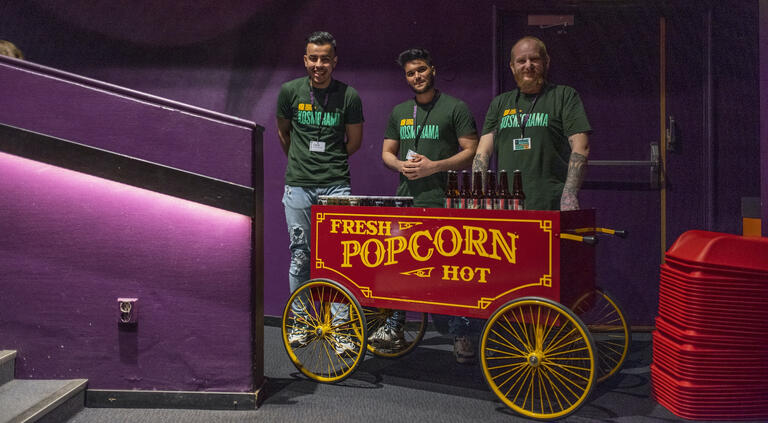 Terms for volunteers
You have the following commitments and rights as a volunteer for Kosmorama Trondheim International Film Festival:
Workload
The minimum workload is 3 shifts which equal approximately 21 hours. Some tasks require more than that. This is listed in the job descriptions.

Obligations, Employment and Work
Volunteers are engaged on a voluntary basis to perform work as agreed with Kosmorama. Time and place will be agreed between the individual and the festival. Volunteers commit to showing up on time and being available at the agreed time. Kosmorama will strive to have timesheets and specific tasks ready for you in good time for the festival, but some changes may occur

Compensation
Volunteers receive a t-shirt and a festival pass which gives access to all screenings and to the closing party. If the festival pass is misused, if volunteers don't show up on time or don't perform the work that's agreed upon, they'll be billed for the t-shirt and festival pass.

Uniforms
The festival t-shirt is regarded as a work uniform before and during the festival. This means that you should only use the t-shirt when you're working, and not in your spare time. You can use your t-shirt where- and whenever you want after the festival is completed.

Confidentiality agreement
Volunteers have a duty to maintain full confidentiality of all operational and business conditions they become aware of, both when they're working, and in their spare time. This also applies to knowledge of customers' operations and business relationships. Volunteers should not speak to the media before and during the festival unless specifically agreed by the festival's press officer. This confidentiality also applies after the employment has ended.

Availability
Everyone should be able to volunteer at Kosmorama. If you need facilitation of reduced disability please contact us directly. You can contact us by email: melissa@kosmorama.no or by phone: 00479118190.

Positions
Info and accreditation
You'll be working at the festival info stand to inform our audience about movies, tickets and screening venues prior to and during the festival. The information desk will also greet and help all the volunteers and accredited. You must be prepared to work at a fast pace at times. This is the job for the outgoing, service-minded, helpful people who want to become familiar with Kosmorama, the program and the logistics of the festival. The info and accreditation desk opens a week before the festival and is open during the entirety of the festival.

Distribution
Would you like to make Kosmorama more visible in Trondheim? In distribution, you'll have the task of creating awareness around the festival by hanging up posters, distributing programs and stunting before the festival. If you're outgoing, creative and entrepreneurial, this is the volunteer job for you.
Photography
As a photographer for Kosmorama you get to cover every aspect of the festival. We have events, parties and the prestigious award ceremony Kanonprisen. You'll be able to take video/photos at several locations. We require that you have your own equipment and a positive attitude!


Sunshine group
You are responsible for the volunteer area (Kosmocrew Lounge). Your job includes welcoming the volunteers, making sure the area is clean and tidy, helping out with what is needed and creating a good environment for all the other volunteers.
Cinema host
The cinema host's task is to be a friendly face for Kosmorama. One of the main tasks will be to take responsibility in the cinema halls. It takes a little extra courage to be cinema host, whether it is to present a film to the audience or to be quick in preparing the halls for the next screening. You will be visible at the festival and must therefore be willing to answer questions, motivate other volunteers and keep an eye on everything that is going on so that it becomes a pleasant and clean festival for absolutely everyone. The best thing about being a cinema host is that you get to see the movies with the audience!
Guest host
Guest hosts are responsible for one or more of the following, depending on the set schedule per host: As a guest host you can be responsible for one guest that you must follow during the guest's stay or the responsibility for a group (nominated for the Kanonprisen, juries, pitch participants) to be followed from A to B. You may be given the task of being available during the event or you may be responsible for one sponsor who will be followed up according to agreement (meet on site and follow up at the event in addition to some follow-up in advance). If we see that there is a need for it, two guest hosts can work together in a group. Guest host is one of the positions that may require more time than 3 shifts.

Outdoor cinema crew
Kosmorama is known for its exciting outdoor cinemas that appear in various places in the city! Join in on the fun by participating as an outdoor cinema volunteer where you help with set up and take down the cinema equipment, take admission and distribute popcorn and other goodies to the public.